With a close collaboration with Prof. Pankaj Kapahi and Dr. Neelajan Bose from Buck Institute for Research on Aging, and Dr. David Killilea from Children's Hospital Oakland Research Institute (CHORI), Dr. Chi has used several animal models to investigate how kidney stone forms and how to treat or prevent it efffectively. 
The simple but elegant fruit fly Drosophila melanogaster is emerging as our powerful translational model of human disease and we are one of the first few groups using this model for kidney stone. Drosophila's excretory organs called "Malpighian tubules" are remarkably similar to those of the human nephron. The direct effects of dietary manipulation, environmental alteration, and genetic variation on stone formation can be observed and quantified in a matter of days. Several Drosophila models of human nephrolithiasis, including genetically linked and environmentally induced stones, have also been developed. A model of calcium oxalate stone formation is among the most recent fly models of human nephrolithiasis.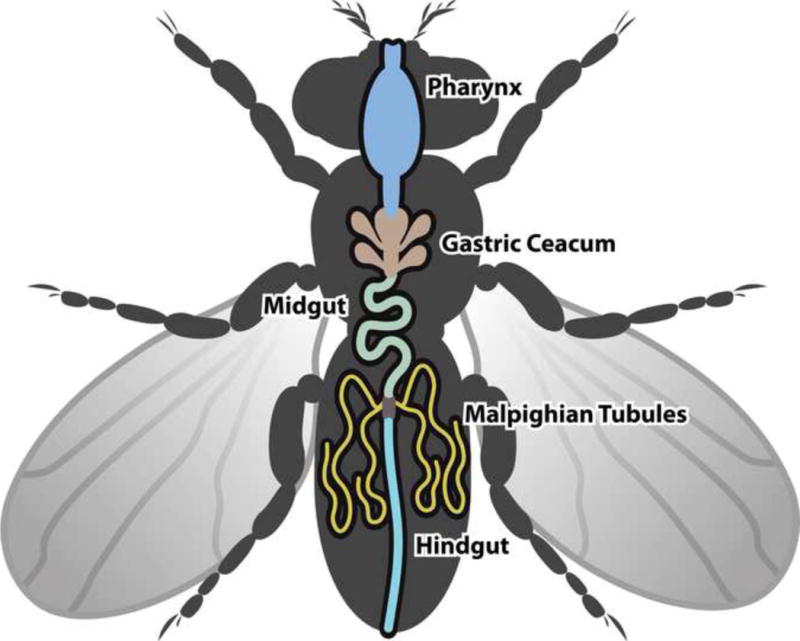 Cartoon of D. melanogaster excretory tract. Two pairs of Malpighian tubules, one anterior and one posterior, are each connected to the gut by a common ureter.
A Drosophila model identifies a critical role for zinc in mineralization for kidney stone disease. Chi T, Kim MS, Lang S, Bose N, Kahn A, Flechner L, Blaschko SD, Zee T, Muteliefu G, Bond N, Kolipinski M, Fakra SC, Mandel N, Miller J, Ramanathan A, Killilea DW, Brückner K, Kapahi P, Stoller ML. PLoS One. 2015 May 13;10(5):e0124150. doi: 10.1371/journal.pone.0124150.   Read more... 
Elemental Content of Calcium Oxalate Stones from a Canine Model of Urinary Stone Disease. Killilea DW, Westropp JL, Shiraki R, Mellema M, Larsen J, Kahn AJ, Kapahi P, Chi T, Stoller ML. PLoS One. 2015 Jun 11;10(6):e0128374. doi: 10.1371/journal.pone.0128374.   Read more...
Animal models of urinary stone disease. Tzou DT, Taguchi K, Chi T, Stoller ML. Int J Surg. 2016 Dec;36(Pt D):596-606. doi: 10.1016/j.ijsu.2016.11.018.   Read more...