Contrast-enhanced ultrasound (CEUS) is the application of a microbubble ultrasound contrast agent into conventional ultrasonography. Upon administering the microbubble ultrasound contrast agent into a patient's body, these microbubbles create a unique signal which is easily detectable by an ultrasound machine and aids in the visualization of internal organs. In combination with intravenous microbubble contrast injection, CEUS has been widely used for echocardiography, a sonogram of the heart. In limited circumstances, some urologists also utilize microbubbles to detect small kidney or bladder tumors.
In close collaboration with Dr. Stefanie Weinstein and Dr. John Mongan from the UCSF Department of Radiology and Biomedical Imaging, Dr. Thomas Chi has established new applications of CEUS for kidney stone surgical management: 
One application is called "antegrade CEUS nephrostogram." Generally, urologists will use special x-ray imaging called "fluoroscopic nephrostogram" after PCNL to evaluate blockage of a ureter. This imaging requires x-ray, and its radiation exposure raises a concern of several long-term side effects to patients. To reduce this risk, Dr. Thomas Chi and his research team have applied CEUS to replace fluoroscopic nephrostogram. Microbubble contrast is injected into the kidney via a pre-placed tube similarly to a conventional x-ray method. An ultrasound machine with special software is then used to evaluate ureteral patency with zero radiation exposure to the patients. Dr. Chi has shown in his pilot study that this novel CEUS application is as accurate as the x-ray method, and injection of microbubble contrast into a kidney is safe. Subsequently, he proposed a large-scale validation study and received funding from the NIH to further his studies.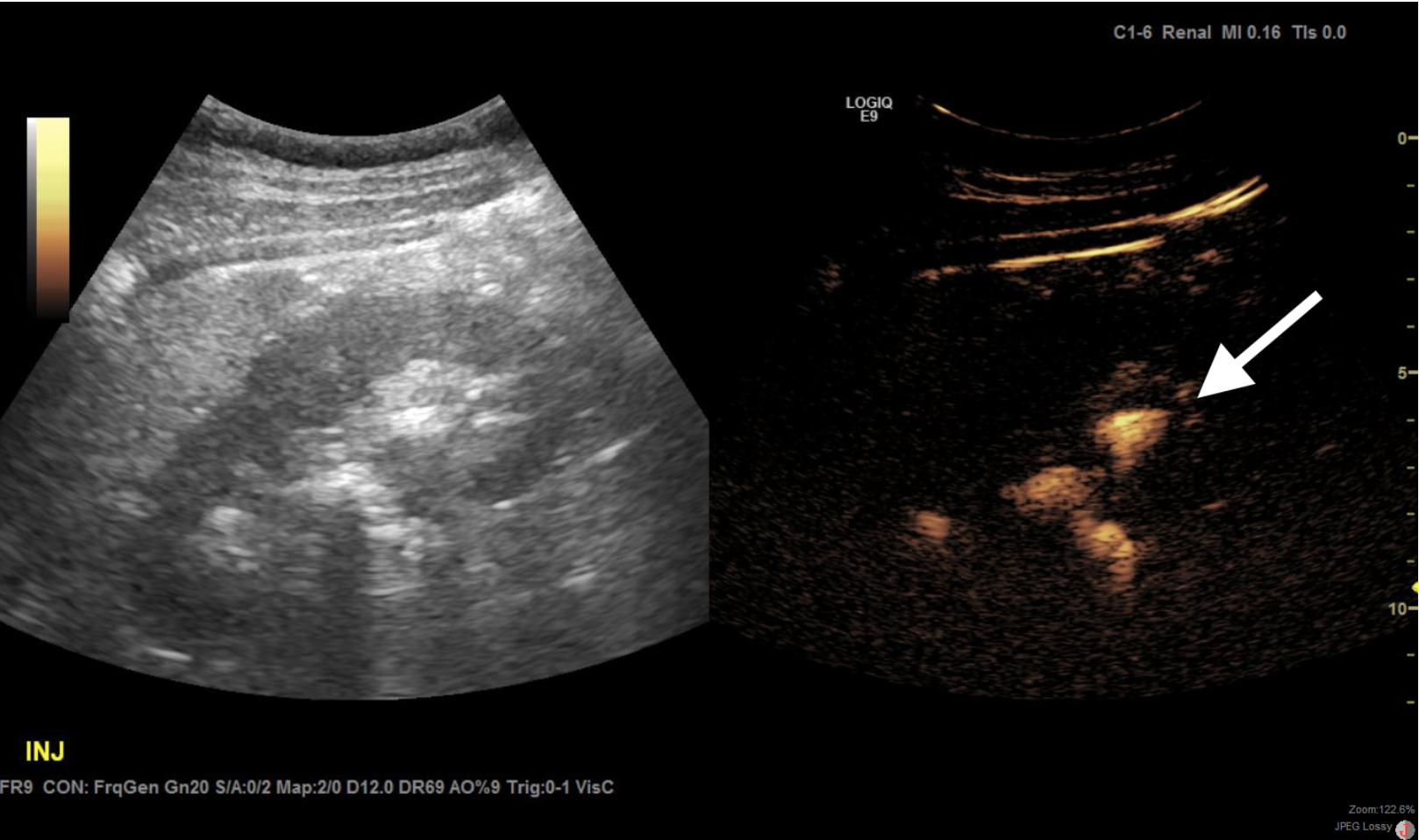 To extend the benefit of CEUS to other aspects of kidney stone management, Dr. Thomas Chi has recently published two studies regarding new CEUS application for kidney stone surgery. One is a feasibility study using CEUS and microbubble contrast to guide needle placement during PCNL in challenging cases. Another study shows the feasibility of CEUS to confirm tube position during PCNL. Empowered with these CEUS innovations for kidney stone management, Dr. Chi and his team are looking forward to treating their patients more efficiently, more safely, and with zero radiation exposure.             
Feasibility of Antegrade Contrast-enhanced Ultrasound Nephrostograms to Evaluate Ureteral Patency. Chi T, Usawachintachit M, Mongan J, Kohi MP, Taylor A, Jha P, Chang HC, Stoller M, Goldstein R, Weistein S. Radiology. 2016   Read more... 
Feasibility of retrograde ureteral contrast injection to guide ultrasonographic percutaneous renal access in the non-dilated collecting system. Usawachintachit M, Tzou DT, Mongan J, Taguchi K, Weinstein S, Chi T. J Endourol. 2016   Read more...
Antegrade ultrasound contrast injection facilitates accurate nephrostomy tube positioning during percutaneous nephrolithotomy. Usawachintachit M, Tzou DT, Mongan J, Weinstein S, Chi T. Int J Urol. 2016   Read more... 
Case Report: Contrast Enhanced Ultrasound Detects Recurrent Renal Cell Carcinoma in the Setting of Chronic Renal Insufficiency. ​​Tzou DT, Weinstein S, Usawachintachit M, Mongan J, Greene KL, Chi T. Clin Genitourin Cancer. 2016. http://dx.doi.org/10.1016/j.clgc.2016.12.010   Read more...